Douglas R. May
---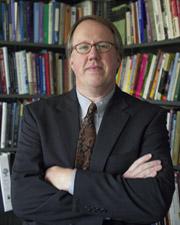 Management and Entrepreneurship academic area
Research
—
Professor May's research interests include topics in business ethics (e.g., moral efficacy, moral courage, moral meaningfulness, and moral identity) and positive organizational scholarship (e.g., meaningfulness, job crafting, thriving and engagement at work). Professor May was awarded funding for his research on job design from the National Institute for Occupational Safety and Health (NIOSH) and awarded a three-year National Science Foundation (NSF) grant with KU colleagues to conduct research on ethics education. His work with Brenda Flannery on environmental ethical decision-making won the 1999 Academy of Management ONE Division's Best Paper Award and his research with Cheryl Rathert and Ghadir Ishqaidef received the 2008 Academy of Management HCM Division's Best Paper Award. Finally, his theoretical work on ethical decision-making with Sean Hannah and Bruce Avolio received the 2012 Guy O. and Rosa Lee Mabry Best Paper Award at the University of Kansas. Professor May's articles have appeared in such journals as the Academy of Management Journal, Academy of Management Review, Journal of Applied Psychology, Personnel Psychology, Organizational Behavior and Human Decision Processes, Journal of Organizational Behavior, Journal of Occupational and Organizational Psychology, Journal of Business Ethics, Business & Society, Leadership Quarterly, Journal of Occupational Health Psychology, Human Resource Management, Organizational Dynamics, and others. He has presented his research at over eighty-five international, national, and regional academic conferences.
Teaching
—
Professor May taught courses in organizational behavior, business ethics, responsible conduct in research, and organizational theory at the undergraduate, masters, doctoral, and executive levels. He has been recognized many times for his instruction in the classroom. In 2003, Professor May received the university-level Nebraska Teacher Recognition Award. He was also a finalist for both the 2001 and 1998 NU system-wide Outstanding Teaching and Instructional Creativity Award. Professor May received UNL's 1997 College Distinguished Teaching Award, CBA's 1996-1997 Distinguished Teaching Award, and the 1993 Teaching Recognition Award for Contributions to Students from the University of Nebraska-Lincoln's Teaching Council. He received a Faculty Fellowship from the UNL Teaching Council to participate in the AAHE Peer Review of Teaching Project. Finally, Professor May served as Co-Chair of UNL's Teaching Council for the 1999-2000 academic year.
Service
—
Professor May directed activities associated with the International Center for Ethics in Business. He  worked with H. Joseph Reitz and Richard De George to conduct curriculum development workshops for faculty and graduate students on international business ethics as well as for science and engineering faculty from KU, KSU, and UMKC. He worked with students in the KU School of Business to establish the positive code of conduct, RESPECT, and coordinates the selection of recipients of this award each year. Professor May has used his research expertise and business experience at IBM to consult on job and work environment changes with organizations in health care, manufacturing, telecommunications, and government. He presents seminars on business ethics for executive education programs. Professor May is a member of the Academy of Management, Midwest Academy of Management, International Association for Business and Society, and the Society for Business Ethics. He served previously on the Academy of Management's Advisory Council and the Social Issues in Management Division's Research Committee. He has been an invited speaker on publishing, theory development, and research funding at both the SIM and HR Doctoral Consortia of the Academy and served as co-chair for both the 2004 and 2005 SIM Doctoral Consortia. Professor May has also been active in the governance of the Midwest Academy of Management, serving as its President in 2000 and on the Board of Governors. Professor May has served on the editorial review boards of the Journal of Management and Business Ethics Quarterly. In addition, he serves as an ad hoc reviewer for such journals as Administrative Science Quarterly, Academy of Management Journal, Academy of Management Review, Business and Society, and the Journal of Business Ethics. Finally, he received a Best Reviewer Award for his reviewing work from the Social Issues in Management Division of the Academy of Management in 2000.