Felix Sommerville
---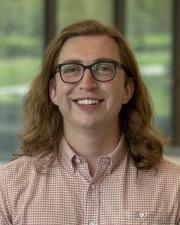 Student & Academic Services
Contact Info
Capitol Federal Hall, Room 1183
Lawrence

---
Biography
—
Felix Sommerville was born here in Lawrence, Kansas, and raised here, as well as in Argentina, where his family is from. He has also lived in Boulder, Colorado. Sommerville has been advising at KU for a while, including in the School of Education, the College of Liberal Arts & Sciences, and now the School of Business.
Interests and hobbies
Sommerville enjoys reading books, drinking yerba-maté, nerding out over personal finance and getting outside. He spends his free time with his family and friends, watching fútbol, listening to his favorite hip-hop artists and collecting sneakers. He has been a lifelong KU basketball fan and attended my first game before he turned one year old. When he's not on campus, you can find him around Lawrence fly-fishing, sipping espresso at a coffee shop, or enjoying the wonderful food and drink scene. 
Education
—
M.S.E in Higher Education Administration, University of Kansas
B.S. in Spanish Education, University of Kansas