Michael A. Gonzales
---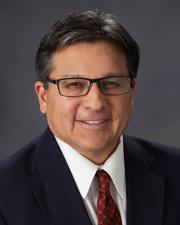 Management and Entrepreneurship academic area
Biography
—
Michael Gonzales is the principal owner of NE&E Consulting and travels the country as a consultant, executive coach, speaker, panelist and advisor on diversity and inclusion (D&I) topics impacting business and workforce imperatives. As the former corporate leader of Hallmark's D&I department, he was responsible for Hallmark's D&I's strategies and objectives, its internal and external collaborations, partnerships and compliance. He was responsible for the execution of the D&I's priorities regarding, workforce, workplace, marketplace and community. Gonzales was also responsible for the company's seven Employee Resource Groups, (ERG's).
He is also the co-founder of the Diversity & Inclusion Consortium, a national organization of over 330 D&I practitioners and advocates hailing from 16 states 23 cities including three international cities, Toronto, Canada; London, England and Hanoi, Vietnam. The Consortium was created when he saw a need for collaborative thought and sharing. The main objective of the Consortium is to share best practice and to provide each other insights  and support regarding D&I opportunities and challenges.
Gonzales is a frequent lecturer on university campuses advancing student knowledge and appreciation for D&I not only for their college experience but in preparation for their professional career. He assumed joined the KU School of Business faculty in spring 2020 and teaches a course on diversity and inclusion.
He currently serves on 11 national, regional and local boards and councils. Gonzales is skilled in the areas of executive coaching, assessment and consulting, speaking and presentations, building critical relations, innovation and resourcing, business collaboration, employee relations, diverse and cultural understandings, compliance metrics, and program management.