Steven Johnson, Jr.
---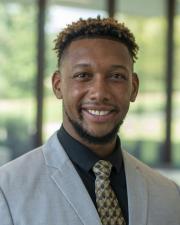 Assistant Dean of Diversity, Equity, Inclusion and Belonging
Diversity, Equity, Inclusion and Belonging (DEIB)
He/Him/His
Contact Info
Capitol Federal Hall, Room 1030D
Lawrence

---
Biography
—
Steven Johnson Jr., Ed.D., (he/him/his) serves as the assistant dean of diversity, equity, inclusion and belonging (DEIB) in the School of Business. In this role, he is responsible for leading diversity-related recruitment and retention, programming, outreach, community engagement, proposal development, fundraising, and evaluation efforts across the School for students, faculty, and staff. Johnson acts as the School's leader in the strategies, policies, and administration for matters of diversity, equity, inclusion and belonging.
He earned his bachelor's degree in industrial and manufacturing systems engineering from Iowa State University, his master's degree in student affairs administration from Michigan State University, and his doctorate of education in higher education administration from the University of Kansas. His research interests center student employment, identity development, help-seeking strategies, and professional engagement.
In addition to his campus-related endeavors, Johnson has involved himself in regional and national associations, serving on various committees and entity groups with the American College Personnel Association (ACPA) and the Upper Midwest Region – Association of College and University Housing Officers (UMR-ACUHO). In these appointments, he has taken advantage of opportunities to facilitate targeted social justice educational programs and initiatives. Johnson has also presented at regional and national conferences on issues that affect individuals from marginalized populations. Johnson has had many progressive professional experiences and brings a passionate energy to the work he does every day. He is dedicated to supporting the school's core commitment to creating and supporting an atmosphere of inclusivity in which all people, ideas, perspectives and experiences are valued.
Education
—
Ed.D. in Higher Education Administration, University of Kansas, 2022
M.A. in Student Affairs Administration, Michigan State University, 2015
B.S. in Industrial and Manufacturing Systems Engineering, Iowa State University, 2013