William E. Lewis
---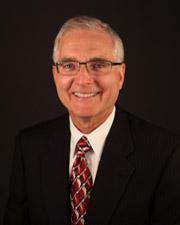 Biography
—
Prior to coming to KU, Bill Lewis spent 22 years in financial and accounting areas of large and mid-size corporations. In his corporate career he has been assigned to financial reporting positions in the corporate Controllers Department of Exxon Corporation in New York and the Marine Department of Exxon U.S.A in Houston. He has also held the following executive positions in Exxon subsidiaries:
Assistant controller - Esso Standard Libya -- Tripoli, Libya
Assistant controller - International Petroleum Company Ltd. -- Bogota, Colombia
Controller - Esso Prospaccao Limitada -- Rio de Janeiro, Brazil
Controller - Esso Exploradora y Productora Inc. -- Buenos Aires, Argentina
Subsequent to his career with Exxon, Lewis was the chief financial officer of a highly diversified conglomerate with 14 operating companies throughout the United States. These companies included prominent corporations in the printing, hydraulics, outdoor signage, aquaculture, and photographic industries.
As former chairman of the Pooled Money Investment Board for the State of Kansas, Lewis oversaw the investments of the state's idle funds. These investments comprised a portfolio of $ 3.5 billion.
Education
—
M.S. in Finance, University of Kansas, 1969
B.S. in Business administration, University of Kansas, 1968
B.A. in Mathematics, University of Kansas, 1966