William L. Fuerst
---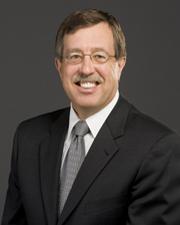 Analytics, Information and Operations Management academic area
Biography
—
William L. Fuerst served as the dean of the School of Business from 2000–11. During his tenure as dean, the School of Business added five majors: finance, supply chain management, management and leadership, marketing, and information systems, as well as the business minor and the master's degree with a concentration in supply chain management and logistics with the U.S. Army Command and General Staff College at Fort Leavenworth. 
Under his leadership, tenured faculty grew by 44 percent and enrollment increased by more than 20 percent. Fuerst also pioneered academic programs, such as the Center for Entrepreneurship and Institute for International Business. He holds the second-longest tenure of any School of Business business dean.
Fuerst is a professor emeritus of information systems. His research and teaching interests included emerging information technologies, management information systems strategic planning and systems analysis and design.
Education
—
PharmD, Texas Tech University, 1979
M.S., Northern Illinois University, 1973
B.S., Knox College, 1969