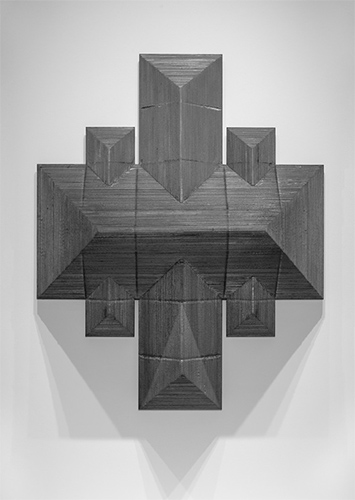 May Tveit (American, b. 1966)
Look Up, 2017
Laminated corrugated cardboard, graphite
68 x 55 x 16 in
May Tveit is known for her conceptually driven site-specific installations and public artworks that employ diverse objects and materials, such as plastic-coated hay bales or jumbo-sized balloons. Working as the unofficial artist-in-residence at the Lawrence Paper Co. — a long-established business in Lawrence, KS that designs and manufactures cardboard boxes and displays — she reimagined the flat-box template as the basis for the creation of sculptures. Look Up belongs to a series of cardboard sculptures each made using the same method. 
Establishing the base later of the sculpture through a standard box template, Tveit cut out and glued down in layers progressively smaller sheets of cardboard proportional to the original template. The resulting sculptural relief is composed of uniform rectangular shapes and pyramidic volumes. Since some of the sheets varied in color from the others, the artist covered the outermost surface of the sculpture with graphite to create visual unity. While the sculpture appears impersonal in its geometric form, Tveit invests it with autobiographical content by giving it the same vertical extension as her height: 68 inches. In doing so, she turns a seemingly minimalist sculpture into a personal monument. In using this mundane, functional material in an artistic and metaphorical way, Tveit has reimagined the flat box template as a potential container of memory, exploring the human need to compartmentalize emotional or psychological strain.    
Biography
May Tveit was born in 1966 in Nyack, New York, and has taught industrial design at the University of Kansas since 1999.  She earned her BFA from the Rhode Island School of Design (1989) and her Master of Industrial Design degree from the Domus Academy in Milan, Italy (1991). Tveit has received numerous grants and fellowships, including a Charlotte Street Foundation Fellowship (2002), an American Institute of Architects Allied Arts & Craftsmanship Award, and an ArtsKC Inspiration Grant. Her work is on display in numerous corporate collections and local and national private collections.
— Natasha Welsh, MA student in art history at the University of Kansas, April 2019