History
The University of Kansas School of Business was founded in 1924 and first attained accreditation from the Association to Advance Collegiate Schools of Business (AACSB) in 1925.
The School of Business originally was located in Strong Hall and in 1960 moved into Summerfield Hall. After more than five decades in the building, KU recognized the need for a new facility that could accommodate the business school's future growth and provide students with spaces for innovation and collaboration. The school's current state-of-the-art home, Capitol Federal Hall, opened in May 2016.
Today the School of Business offers eight undergraduate majors, one co-major, eight minors, five certificates, and five graduate programs on KU's Lawrence and Edwards campuses, in Leavenworth and online.
Deans
Throughout its almost 100-year history, the KU School of Business has benefited from the leadership of its deans. The current dean of the School of Business, L. Paige Fields, began her tenure in July 2017 and is the 12th dean of the school.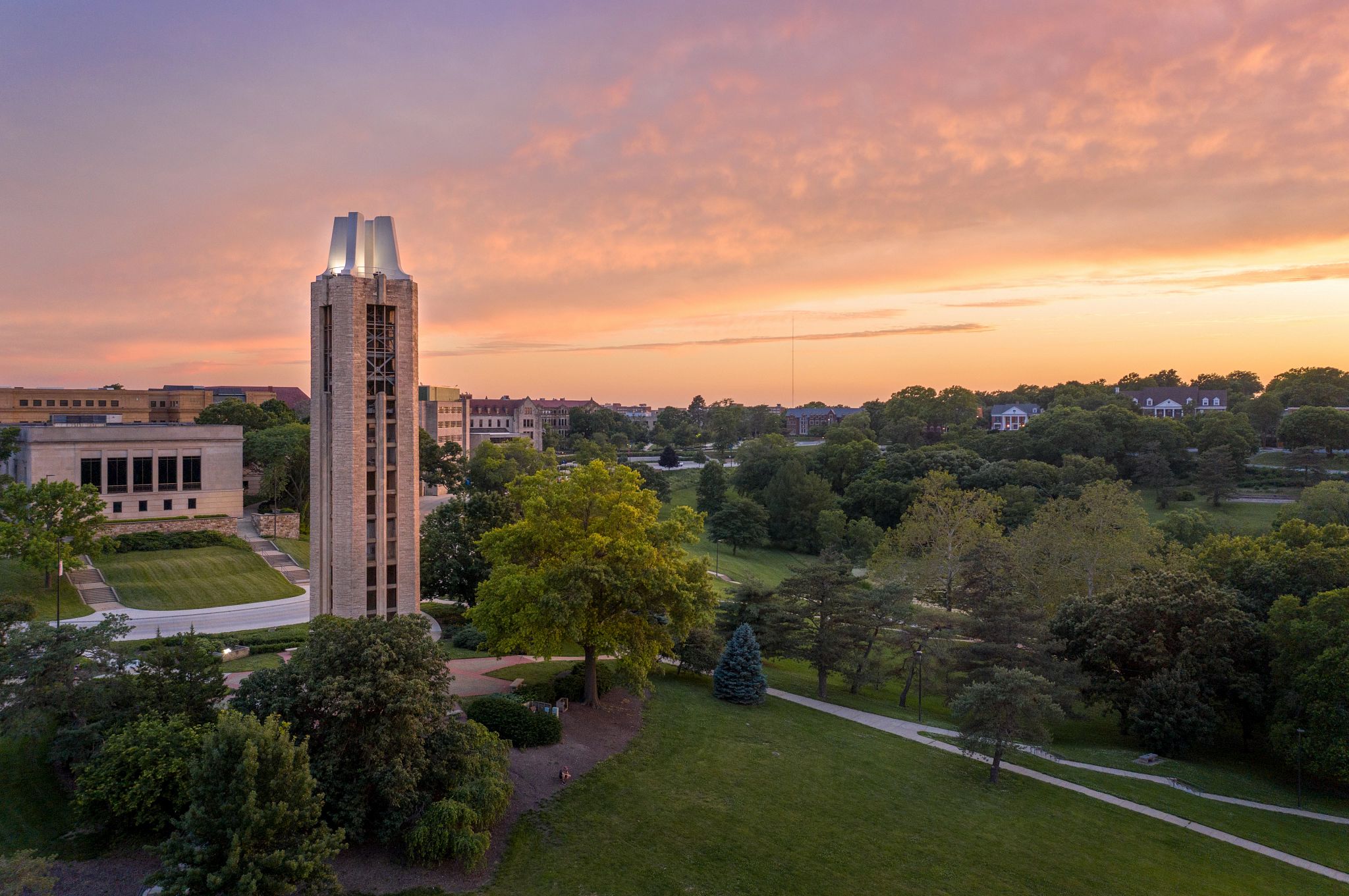 Deans
As the first dean of the School of Business, Stockton was tasked with outlining curricula, specifying requirements for admission and graduation, and preparing general regulations. Within a year of being established, the school was admitted to the American Association of Collegiate Schools of Business (now known as the Association to Advance Collegiate Schools of Business, or AACSB). He is the longest-tenured dean to serve the School of Business.
Before being named dean, Axe was the university administrator of the V-12 Navy training program at KU. While serving as dean, he took a year of leave to serve as the director of the new department of administration of the State of Kansas. He was elected vice-president of the American Association of Collegiate Schools of Business (now known as the Association to Advance Collegiate Schools of Business, or AACSB). Axe was a member of the KU faculty for 28 years.
Surface, an alumnus of KU, was a professor of business administration. Under his leadership, the School of Business' Master of Business Administration program was revised for students with undergraduate studies in fields other than business thanks to a grant from the Ford Foundation. After his tenure as dean, he served as KU's vice chancellor and dean of faculties and, eventually, provost.
As the School of Business dean, McGuire established closer relationships between the School of Business and its alumni. He also added to the school's master's degree program offerings. McGuire installed the first Ph.D. program in business. His research fields included business behavior and growth and organizational theory.
Clifford Clark was a professor of economics and an alumnus of KU. He served with the 42nd Infantry in World War II, receiving a Bronze Star for combat in Northeastern France and helping to liberate the Dachau concentration camp in 1945. Following the war, Clark served in Vienna with the Quadripartite Government of Occupation, working to resolve the status of displaced individuals.
He earned his bachelor's degree in economics from KU in 1948 and his master's degree and doctorate in economics from the University of Chicago. In 1951, he began his career as an analyst at the Central Intelligence Agency, where he served until 1955. Clark went on to positions at North Carolina State University and New York University before returning to KU as dean of the School of Business.
As dean, Clark brought in more than 50 leaders of business and industry to serve on the school's Board of Advisors. He also attracted numerous distinguished faculty during his tenure. After leaving KU, Clark went on to serve as the president of Binghamton University, State University of New York for 15 years and then joined the economics faculty, where he taught until 2000.
While Pichler was dean, business school enrollment increased by 43 percent. Pichler implemented an evening MBA program hosted at the KU Medical Center. Endowments to the school grew during his tenure, and the school received national recognition for scholarship and research with an emphasis in humanities. Pichler went on to become CEO of the Kroger Co. in 1990.
During Tollefson's time as dean, the School of Business experienced one of the largest enrollment increases in its history. The school also developed an international business component during his tenure, and Tollefson took a special interest in the Ph.D. program. He came to KU as an associate professor of marketing in 1970 and was promoted to professor in 1974. He served as associate dean from 1974-1981.
During Bauman's tenure, the MBA program was recognized by BusinessWeek (now known as Bloomberg Businessweek) as one of the 10 best values in the United States. Bauman, a professor of management, increased the number of full-time faculty and the proportion of courses taught by professors in the School of Business.
Prior to coming to KU, Sarowski worked for Arthur Andersen & Co. for 26 years. He retired from the firm in 1990 as managing partner of Andersen Consulting's 170-person metropolitan Kansas City office. He joined the KU School of Business faculty in 1991 as distinguished lecturer and executive-in-residence.
While dean, Sarwoski improved technology used in the School of Business, strengthened its study abroad programs in Italy, and began giving course credit for internships. Higher entrance requirements were implemented, and enrollment increased by more than 20 percent. The Accounting and Information Systems academic area received its first accreditation by the American Association of Collegiate Schools of Business (now known as the Association to Advance Collegiate Schools of Business, or AACSB) under his leadership.
Fuerst joined the KU School of Business as dean in 2000 after serving as associate dean of Texas A&M's Mays Business School, where he had also been a faculty member since 1979. During his tenure as dean, the School of Business added five majors: finance, supply chain management, management and leadership, marketing, and information systems, as well as the business minor and the master's degree with a concentration in supply chain management and logistics with the U.S. Army Command and General Staff College at Fort Leavenworth. 
Under his leadership, tenured faculty grew by 44 percent and enrollment increased by more than 20 percent. Fuerst also pioneered academic programs, such as the Center for Entrepreneurship and Institute for International Business. He holds the second-longest tenure of any business dean.
Fuerst is a professor emeritus of information systems. His research and teaching interests included emerging information technologies, management information systems strategic planning and systems analysis and design. He earned his bachelor's degree from Knox College, his master's from Northern Illinois University and his doctorate from Texas Tech University.
Bendapudi earned her doctorate at KU in 1994. Before becoming dean of the School of Business, she taught at Texas A&M University and Ohio State University and served as executive vice president and chief customer officer of Huntington National Bank. Bendapudi has taught at the undergraduate, MBA, Executive MBA and Ph.D. levels and has received numerous college, university and national teaching awards.
As dean, Bendapudi pioneered the initiative to plan and raise money for Capitol Federal Hall, a $70.5 million 166,500-square-foot building. The school moved from Summerfield Hall, its home of 56 years, to Capitol Federal Hall in May of 2016. Under her leadership, the school's overall enrollment grew by almost 40 percent, and undergraduate enrollment grew by more than 60 percent.
She served as KU's Provost and Executive Vice Chancellor from fall 2016 to spring 2018. Bendapudi was named President of the University of Louisville in spring of 2018, and she was named President of Penn State University in spring of 2022.
Fields serves as the current KU School of Business Dean and H.D. Price Professor of Business. Before this role, she served as Dean of the School of Business at Trinity University in San Antonio and, prior to that, held a variety of academic and leadership roles at Texas A&M University.
Fields' research expertise includes corporate governance, banking, insurance, and capital structure. She served as an associate editor of the Journal of Financial Research and has more than 20 refereed journal articles to her credit, including publications in the Journal of Finance and the Journal of Money, Credit, and Banking. She has also won a number of teaching awards at the school and university levels.
Fields holds a doctorate in business administration (finance) from the University of South Carolina and master's and bachelor's degrees in finance from Louisiana State University.