Master's in Organizational Leadership
KU's master's in organizational leadership is designed for members of the military community in Leavenworth. Earn a business-focused degree that hones your skills while setting you on a path to earn your MBA.
The KU School of Business offers a dynamic, cutting-edge graduate program focused on building the foundational leadership skills necessary to excel in today's complex world.
The Master of Science in Organizational Leadership program is designed on the fundamental principles of business leadership, drawing on emergent thinking in leading, ethics, team-building and strategy. The curriculum incorporates relevant, practical knowledge balanced across the central tenets of leading and managing people and organizations.
The program, which starts each fall semester, consists of 30 credit hours, and KU may articulate up to six hours of credit for leadership electives completed during the Command and General Staff Officer Course or at other accredited institutions. The program leverages a hybrid curriculum — with 12 credits offered in a classroom setting and 12 in an online environment — and students have the option of applying their completed coursework toward a KU Master of Business Administration, which can be pursued online at your own pace.
Curriculum
Required courses:
MGMT 781: Managing Strategic Direction and Change (3 credits, in-person)
MGMT 782: Developing Effective Management and Team Skills (3 credits, in-person)
MGMT 783: Ethical Decision-Making in Business (3 credits, in-person)
MGMT 784: Leadership Capstone (3 credits, in-person)
MGMT 706: Managing People (3 credits, online)
BSAN 706: Statistics (3 credits, online)
ACCT 706: Accounting (3 credits, online)
FIN 706: Finance (3 credits, online)
CGSC Electives (six credits)
The MS-OL program consists of thirty credit hours. Twenty-four of those are delivered by KU School of Business faculty, with six credits of advanced leadership electives articulated from the CGSOC curriculum or other accredited institutions.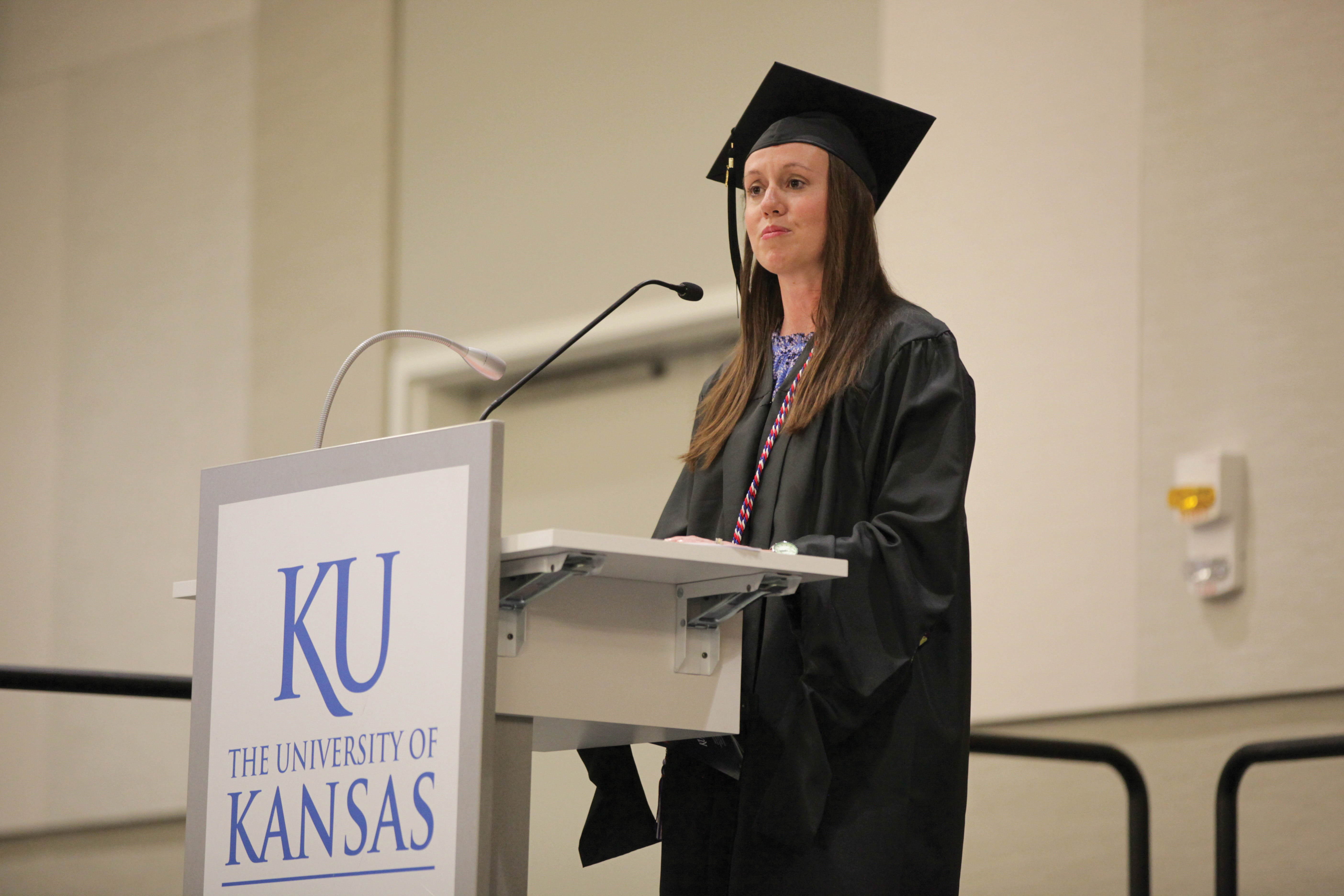 The student experience
Major Stephanie Huebner's master's degree was more than a way for her to continue advancing through the U.S. Army — it was a step toward the future she envisions when she someday leaves the military.