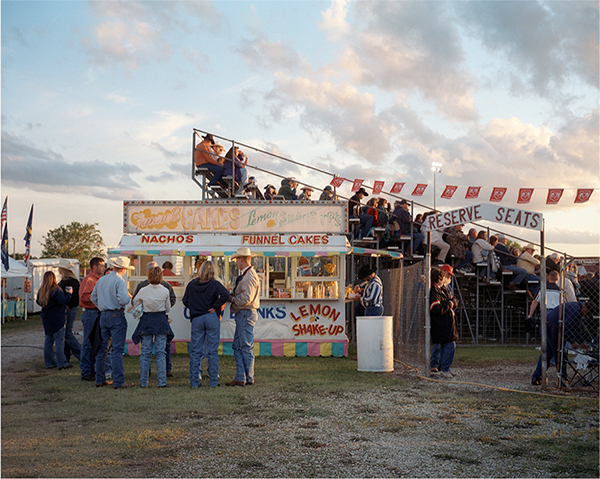 Mike Sinclair (American, b. 1952)
Lemon Shake Up, Strong City Kansas, 2003
Pigment ink print
30 x 40 in
Mike Sinclair's Lemon Shake Up, Strong City Kansas is an almost timeless representation of a rural Midwestern state fair. Only the design of the Pepsi logo glimpsed through the window near the center of the composition fixes the image at a specific historical moment. Otherwise, one could imagine this scene taking place any time after the onset of color photography. The lemonade stand advertises the standard fare of nachos and funnel cakes, just to the left of the entrance to what could be a rodeo or a livestock competition. The lack of information about the event occurring here is appropriate to Sinclair's universalizing style of photography.
Characteristic of his work, human subjects in the photograph do not gaze into the lens, so Sinclair and the viewer remain detached from the action of the scene. Even the person in the Lemon Shake Up stand does not regard the camera, as she turns away to dust powdered sugar onto a funnel cake or place a hot dog into a bun. Sinclair's photography suspends us in a moment with, yet apart from, these people, and we feel as if we could step forward to order our own Lemon Shake Up. The colors of the lemonade stand act as a replacement for the sunset we do not yet see off to the right of the picture plane. Golden light illuminates the denim-clad figures and the floodlights burst on above the arena. The moment Sinclair captures hovers in perpetuity on the edge of twilight.
Biography
Mike Sinclair is a fine art and architectural photographer based in Kansas City, Missouri. He earned his BA at Southern Illinois University in Carbondale, Illinois. Sinclair's work is in many public and private collections, including the Nelson-Atkins Museum of Art and the Kemper Museum of Contemporary art in Kansas City. His photographs of the Fourth of July were featured in Time Magazine in 2012, and he has received a Charlotte Street Foundation Award (1999) and a Guggenheim Fellowship (2013). Most of his photographs feature his hometown of Kansas City, and the surrounding Kansas City Metro area. He teaches photography at the University of Kansas.
— Liz James, MA student in art history at the University of Kansas, April 2019