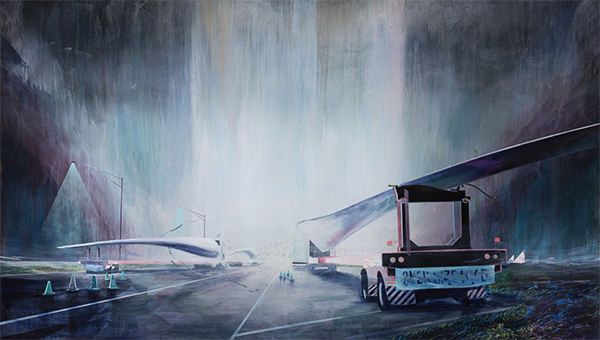 Robert Bingaman (American, b. 1981)
Kansas (White Night), 2016
Acrylic on canvas
65 x 115 in
Commissioned for the School of Business collection, Robert Bingaman's Kansas (White Night) is a large-scale depiction of parked transport vehicles bearing the blades of wind turbines and seen through the haze of a late-night spring storm. The imagery is rendered in a palette dominated by deep navy and white, with thinned-out paint streaking down the canvas and sharp lines scratched into the surface to delineate details. The composition centers on the blinding lighting of the construction site that defines the space of the action and leaves the edges of the painting in semi-darkness. The sheer size of the work engulfs the viewer in the night, giving the feeling of standing just outside the bright worksite in the pouring rain.  Bingaman depicted wind turbine blades as an homage to western Kansas where wind turbines rise from farmland. The painting generates a sublime effect through its scale, composition, dramatic palette, and impressive imagery, offering a hopeful vision of the giant objects that have transformed the rural economy. Soon a team will place the turbines in the fields where they will generate power and income for the farmers.
Kansas (White Night) is a continuation of Bingaman's series of Nocturnes, paintings that take him to remote locations in search of inspiration. This mysterious and powerful work is the result of one such trip across Kansas
Biography
Wichita native Robert Bingaman attended the University of Kansas for his BFA (2005) before earning his MFA (2007) from Washington University in St. Louis. His breakthrough painting series, "Night Pools," was featured in a 2014 solo exhibition at the Nerman Museum of Contemporary Art in Overland Park. Since then Bingaman's paintings have been shown in solo and group exhibitions across the Kansas City region. His work is held in public and private collectors including The Art of Emprise at Emprise Bank in Wichita and the Nerman Museum.
— Stephanie Alger, MA student in art history at the University of Kansas, April 2019