Accounting professor appointed senior editor of auditing journal
---
University of Kansas School of Business professor Mike Wilkins has been named senior editor of Auditing: A Journal of Practice & Theory.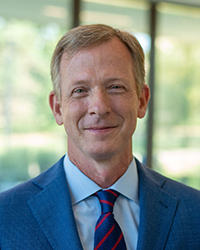 The journal is a highly ranked publication of the Auditing Section of the American Accounting Association. It publishes papers contributing to advancing the practice and theory of auditing and covers both internal and external auditing, as well as other attestation activities.
Wilkins joined the KU faculty in 2017 and is the school's Larry D. Horner/KPMG Professor. His research has appeared in leading academic journals, including The Accounting Review, the Journal of Accounting Research, Contemporary Accounting Research, Accounting, Organizations, & Society, and Auditing: A Journal of Practice & Theory.
He previously served as an editor at The Accounting Review, the premier journal for accounting research, and currently serves on the editorial review boards for The Accounting Review, Auditing: A Journal of Practice & Theory, and Accounting Horizons.
Wilkins earned his doctoral degree in accounting from the University of Arizona, and his master's degree in accounting and bachelor's degree in finance from the University of Kentucky. He previously held faculty positions at Texas A&M University and Trinity University and has received numerous teaching and service awards.
Wilkins' role as senior editor will begin June 1, 2023.
Accounting faculty in the KU School of Business rank No. 1 globally in all audit research contributions over the past six and 12 years, according to Brigham Young University's 2021 index of accounting research.