KU accounting student selected for prestigious FASB Postgraduate Technical Assistant Program
---
LAWRENCE — University of Kansas School of Business student Luke Kennedy has been selected for the Postgraduate Technical Assistant Program with the Financial Accounting Standards Board (FASB), the premier institution that establishes financial accounting and reporting standards for U.S. organizations and companies.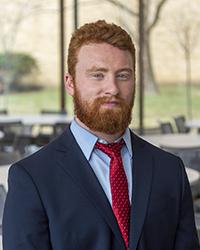 The FASB holds the program twice a year, selecting only six students nationwide for each of its summer and winter cohorts. Kennedy, who will graduate with his Master of Accounting in May, is the first KU student to be chosen for the program. He will begin his yearlong assistantship in January 2023.
To be considered for the program, students must be nominated by an accounting faculty member and have an outstanding academic record. Candidates also must demonstrate excellent communication skills and have completed coursework that provides a comprehensive understanding of accounting theory and practice.
"Luke is one of the most intellectually curious students we have had in our program and is an outstanding leader both in and out of the classroom," said Alee Phillips, director of KU's Master of Accounting program. "Our accounting program has nominated several outstanding students for this opportunity in past years, and several have made it to the interview stage. We are proud of the new door Luke has opened for future KU accounting students."
As a postgraduate technical assistant, Kennedy will have the opportunity to participate in the FASB's accounting standards-setting process. Postgraduate technical assistants get to work closely with project managers on either major agenda projects or short-term practice and implementation issues, and they attend relevant board and task force meetings.
"We are thrilled for Luke. His outgoing personality, commitment to professionalism and desire to learn are some of the many strengths he will bring to this prestigious program," Phillips said.
Kennedy is from Woodinville, Washington, and received his bachelor's degree in accounting with a minor in entrepreneurship from the School of Business.
"Being selected for this program is the highest honor I've experienced during my academic career," he said. "Our KU accounting program is very special, and I owe this opportunity to the education provided by our incredible School of Business faculty."