California couple establishes professorship with $1 million gift
---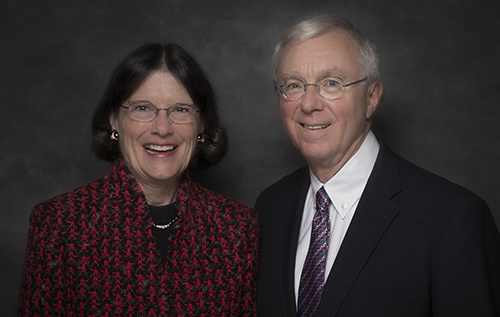 LAWRENCE — Analytics, information and operations management is an emerging area in business, and University of Kansas alumnus Roger Davis recognizes its growing importance. He and his wife, Julie, secured a place for that area of study in the KU School of Business by giving a $1 million gift to establish the Davis Analytics, Information and Operations Management Area Director Professorship, honoring retired dean Tom Sarowski.
The unique gift also includes an initial expendable gift of $120,000 to provide immediate supplemental support for the Davis AIO Area Director Professorship. The Davises, of Montecito, California, will continue to make annual gifts to the supplemental fund assuring that the combined endowed and supplemental funds provide no less than an annual total of $100,000 to support the position.
Roger Davis, who received a bachelor's degree in accounting and business administration from KU in 1972, attended a meeting of the School of Business Dean's Advisory Board in fall 2021. At that meeting, Dean Paige Fields projected upcoming needs for the school, including support for highly qualified faculty chairs. The Davises talked it over and agreed that faculty was the area they felt most drawn to support.
"It was never a question of whether we would do something, but what we would do," Roger Davis said. "Dean Fields — and the whole school — would benefit if we responded to her request. We approached this with urgency and intensity because we wanted to immediately demonstrate our support of the dean's initiative to significantly increase faculty support."
The Davises said they believe analytics, information and operations management, known collectively as AIO, is the most important area in the business school. Their decision to support AIO aligns with their 2015 gift to create the Davis Center for Figure Sense at the school, focusing on evidence-based decision making.
Debabrata "Deb" Dey, who up until recently was a professor of information systems at the Foster School of Business at the University of Washington, has been selected as the inaugural Davis AIO Area Director Professor and said he is looking forward to the opportunities the position presents.
"The rapid and ongoing digital transformation around us makes AIO the area to be in," Dey said. "AIO holds the key to the digital world, its operational efficiencies and its successes. AIO bridges the gap between technology and business — it provides technology-based solutions to practical problems and fosters innovations through technology."
Dey expressed his gratitude and excitement to be in this pivotal role.
"As the incoming area director, I want to thank the Davises for recognizing the potential AIO holds in today's technology-driven business and society," he said.
Roger Davis recognized Sarowski in the naming of the professorship because the two worked together during Sarowski's tenure as dean from 1995 to 2000. For three of those years, Davis was chair of the Dean's Advisory Board.
"While Tom was not an academic, he brought extensive senior-level consulting industry leadership experience," Roger Davis said. "Tom laid the groundwork for a lot of progress in the School of Business. Being his board chair for three years, I learned so much from him, and I wanted to make sure he was recognized."
Fields thanked the Davises for their vision and generosity.
"This gift advances the school's efforts to recruit top-tier faculty, such as Professor Dey, which also helps elevate our academic reputation," she said. "Bolstering an academic area director position in this forward-focused way ensures the retention of strong faculty leadership within the school."
Photo: Julie and Roger Davis, of Montecito, California, made a $1 million gift to establish the Davis Analytics, Information and Operations Management Area Director Professorship at the University of Kansas. Roger Davis is a KU alumnus.