Investment in information technology helps companies maximize innovation, study finds
---
LAWRENCE — Companies must innovate in order to sustain competitive advantage. But a new study reveals how integral information technology is to maintaining that advantage.
"What we find is investments in IT systems and in IT human resource is critical to maximize innovation across multiple categories," said Adi Masli​, a professor of accounting and Koch Foundation Fellow at the University of Kansas.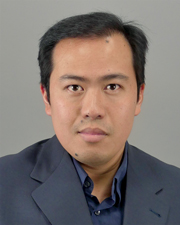 His article titled "Complementarity Between Investment in Information Technology (IT) and IT Human Resources: Implications for Different Types of Firm Innovation" finds that firms with robust investments in IT produce more patents with greater value. Further, it finds such firms produce more patents that emphasize new knowledge. It's published in Information Systems Research.
Co-written by Feng Guo of Iowa State University and Yijun Li of Erasmus University Rotterdam (who both earned doctorates in accounting from KU) and Likoebe Maruping of Georgia State University, the study analyzes four types of innovation: incremental, radical, non-IT related and IT-related.
"There is a complementarity piece to investments in IT," Masli said.
"Not only do you need to invest in tangible IT systems — software, hardware, networks and others — you also need to invest in the workplace environment for IT employees within the company. The complementarity of those two IT factors maximizes your innovation output."
Masli's impetus for the research began when he read an issue of Computerworld magazine that published an annual list of the "Best Places to Work in IT."
He said, "It's difficult to get that type of data about the workplace environment. There's no mandatory requirement in financial reports suggesting companies have to determine and disclose how good or bad their workplace environment is. So when I came across this publication, it sparked that idea. Now we had a measure of how to assess the investments in workplace quality for IT employees in organizations."
Using a sample involving 36,812 firm-year observations, Masli's team analyzed various factors that play into a healthy workplace environment, including aspects such as work/life balance, opportunity for promotion and diversity.
Originally, he expected such investment would only help IT innovation output. However, the research team found it had a beneficial impact on non-IT innovation output as well. Similarly, the research looked at incremental innovation (the kind based on existing knowledge) versus radical innovation (the kind that creates new knowledge).
"We were expecting this complementarity to affect only one of these types, but we found it was pretty pervasive," he said. "IT investment impacts all these different types of innovation."
Innovation was traced through the amount of patents issued. But it wasn't just the quantity which proved important; Masli was also interested in evaluating the quality. His team determined the "market value" of these innovations by gauging the change in total stock market capitalization in a three-day window in response to the issuing of a new patent.
Masli joined KU in 2011, where he continues his research in three key areas: the impact of IT in financial reporting quality and business performance; assurance and auditing of companies; and the labor market for executive teams. His past work concerning IT issues includes "Prioritizing IT Management Issues and Business Performance" for the Journal of Information Systems.
"Prior research has focused on how much money companies spent on tangible IT investments. What we've found is why companies shouldn't overlook that the IT department itself serves as a critical support mechanism for innovation programs and departments," Masli said.
"Whether they're managing the communication, the networking or the actual system in place, the knowledge of IT employees is very important in maximizing innovation output. We can't forget about the human element."