Alee S. Phillips
---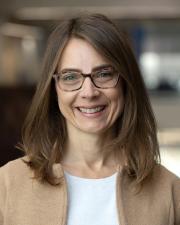 Master of Accounting Program Director
Assistant Area Director, Accounting
Lecturer
Master of Accounting program
Accounting academic area
Contact Info
Capitol Federal Hall, Room 4155E
Lawrence

---
Biography
—
Alee Phillips was inspired to be an accountant by her high school accounting teacher. She started her first semester of college on that path and never looked back. 
Phillips earned her bachelor's and master's degrees in accounting from the University of Kansas. She started her professional career in the State and Local Tax group at Deloitte. When a former professor and mentor created the opportunity for her to return to KU as a lecturer, she didn't hesitate, even though a career in academia was never on her radar. More than 20 years later, she still loves teaching, serving the School of Business and University of Kansas in many different ways, and enjoys her rewarding role as the director of KU's Master of Accounting program.
Phillips lives in Lawrence with her husband, high school son, and two awesome dogs. Her very creative oldest son is an architecture student at the University of Kansas.
Building relationships with students and helping them pursue their personal and professional goals is the most rewarding part of her job. She often jokes that her business card should include the official title of "life coach."
Fun fact: Phillips was the Baby Jay mascot for three years while she was an undergraduate student.
Education
—
CPA, State of Kansas
MAIS, University of Kansas
B.S. in Accounting and Business Administration, University of Kansas
Teaching
—
Teaching interests:
intermediate accounting
financial accounting