Cicily Corder
---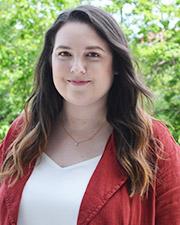 Student & Academic Services
She/Her/Hers
Contact Info
Capitol Federal Hall
Lawrence

---
Biography
—
Cicily Corder is originally from Tulsa, Oklahoma, but has resided in Texas, Maryland, New Jersey, and California. Before becoming an academic advisor in the School of Business, Corder was a graduate academic advisor in the College Office of Graduate Affairs and served the Department of Geology and the Department of Geography and Atmospheric Science at the University of Kansas. She was also a graduate assistant for a variety of programs during her tenure at the University of Oklahoma, including Sooner Jump Start and UC Action Tutoring.
Interests and hobbies
In her free time, Corder enjoys bingeing on all up-and-coming TV series. Even though she currently is a Jayhawk, she will always cheer for her OU teams, along with the Jayhawks when not playing OU. She has a strong passion for everything involving higher education, especially about social justice, equitable access, and international students. She is currently pursuing a Graduate Certificate in Studies in Equity and Social Differences in the United States at KU.
Education
—
M.Ed. in Adult and Higher Education with an emphasis in Student Affairs, University of Oklahoma, 2019
B.A. in French, University of Oklahoma, 2017