Professor named co-editor-in-chief of Decision Support Systems journal
---
University of Kansas professor Andrew Chen has been appointed co-editor-in-chief of Decision Support Systems, an academic journal covering theoretical and technical issues in the support of enhanced decision making.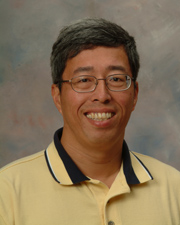 Chen is a professor in the Analytics, Information and Operations Management academic area of the KU School of Business. He will serve in the role along with Victoria Y. Yoon, a professor of information systems at Virginia Commonwealth University. 
Research topics in the Decision Support Systems journal span the foundations, functionality, interfaces, implementation, impacts, and evaluation of decision support systems. Chen has previously served on the journal's editorial advisory board.
His teaching and research interests include knowledge management, IT business value, human computer interface design, database management, and business and web programming applications. 
Chen's research has appeared in journals including Decision Sciences, Decision Support Systems, the European Journal of Operational Research, Information & Management, the Journal of the Association for Information Systems, the Journal of Management Information Systems, and MIS Quarterly. His research work has also been featured in various international conferences and workshops. 
Chen's role as co-editor-in chief will begin in January 2022.