Marketing professor recognized with American Marketing Association award
---
Murali K. Mantrala, Ned Fleming Professor of Marketing, has been awarded the 2020 Don McBane Special Recognition Award from the American Marketing Association's Selling and Sales Management Special Interest Group (SIG).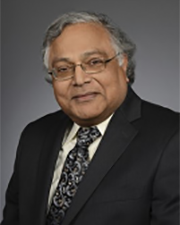 The award honors individuals who have made special contributions to the Selling and Sales Management community. It is not an annual award but rather given only when the Sales SIG Board believes it is deserved by someone who has made exceptional contributions in sales service over an extended period. Mantrala was recognized during the 2021 American Marketing Association (AMA) Winter Academic Conference, held virtually Feb. 17-19.
Mantrala has published research in leading academic journals on several topics in sales management, such as quota-bonus design, sales force responsiveness, and coordination of sales forecasting and compensation. His other publications encompass retail pricing and category management, marketing resource allocation, and two-sided platform marketing strategies.
Several of his papers have received awards, including the 1998 Frank M. Bass Best Dissertation Paper Award of Marketing Science, the 2013 Best Paper Award of Journal of Interactive Marketing, honorable mentions for the 2013 and 2017 Davidson Award of Journal of Retailing, and finalist for the 1997 and 1998 William O'Dell Award and 2018 Paul E. Green Award of Journal of Marketing Research. Murali has served as co-editor-in-chief of the Journal of Retailing, and as co-chair of the 2008 43rd AMA-Sheth Foundation Doctoral Consortium. In 2010, he received the Humboldt Research Award from the Alexander von Humboldt Foundation in Berlin, Germany.
Murali is a professor emeritus of the University of Missouri, Columbia. He has been a visiting professor at various universities, including the S. P. Jain Institute of Management and Research in Mumbai, India, and the Indian School of Business. Other previous positions he has held include J.C. Penney Associate Professor at the University of Florida, manager at ZS Associates, and regional sales manager at Sandoz Pharmaceuticals, in Mumbai, India.