Keith Chauvin
---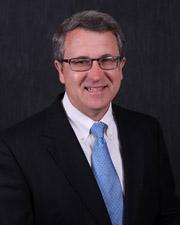 Contact Info
Capitol Federal Hall, Room 4105
Lawrence

---
Biography
—
Chauvin's current research focuses on the effects of putting managerial and employee compensation at risk by making pay vary with performance. Executive stock options, for example, focus executive attention on long run stock prices, the performance measure of greatest interest to the owners.
In the area of teaching, Chauvin has been fortunate over the last several years to have the opportunity to participate in numerous executive education programs with top mangers from companies such as Sprint, Kroger, Farmland Industries, and Koch Industries. He is also on the faculty of KU's Law and Organizational Economics Center and  teaches in the center's Economics Institute for State Judges. Just as students benefit from a better understanding of the basic economic principles of how people respond to incentives and how markets work, experienced executives and even judges benefit from these lessons.
Education
—
Ph.D., University of Illinois, 1988
M.S., University of Illinois, 1985
B.S., Rockhurst College, 1980
Teaching
—
Undergraduate: Managerial Economics and Corporate Finance. M.B.A.: Managerial Economics, Organizational Economics, and Economics of Human Resources Management. Ph.D.: Labor Economics.