Kristina Mease
---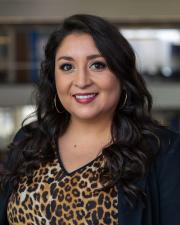 Director, KU Small Business Development Center
KU Small Business Development Center
Contact Info
718 New Hampshire Street
Lawrence, KS 66044
---
Biography
—
Kristina Mease is a business advisor for the KU Small Business Development Center. A Kansas native, Kristina is originally from Emporia and came to Lawrence for her undergraduate degree. She fell in love with the small town feel and sense of community in Lawrence.
In 2014 she graduated with her bachelor's in art history. Shortly after graduation, Kristina worked in the marketing field for a small art company in London. She then returned to Kansas City and found a job working as a financial aid advisor in 2014. Kristina has experience helping individuals sift through complicated information to find insights and drive informed decisions. In addition to her role as an advisor, she also managed a team of student workers for the department.
After a few years in the workforce, Kristina returned to KU for her MBA and graduated in 2017. During her time in the MBA program, she served as a student consultant for a number of local businesses.
Kristina loves everything marketing and served a stint at an advertising agency. Kristina is very excited to help small businesses grow and work with local entrepreneurs.