Sanjay Mishra
---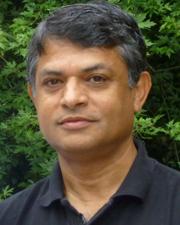 Marketing and Business Law academic area
Contact Info
Capitol Federal Hall, Room 2166
Lawrence

---
Education
—
Ph.D., Washington State University
MBA, Washington State University
M.S., Ohio State University
B.S., Indian Institute of Technology
Research
—
Research interests:
consumer preference and choice modeling
choice inconsistencies
processing of the ad
conjoint analysis
applications of quantitative models in marketing
survey research and methodology
new product development processes
product and innovation management
entrepreneurship
Teaching
—
Business in India, Marketing Management, Marketing Research, New Product Management and Pricing, Categorical Data Analysis, Entrepreneurship, New Venture Creation, Technology Transfer and Commercialization, Personal Entrepreneurship Strategy
Teaching interests:
marketing research
marketing models
product and innovation management
pricing
new product development
new venture creation
entrepreneurship
marketing management and strategy
marketing measurement
Selected Publications
—
Mishra, S. (2008). The Latent Structure of Landscape Perception: A Structural Equations Approach. Journal of Environmental Psychology - Volume 28.
Mishra, S. (2005). Toward Measuring Communications Effectiveness of Commercial Web Home Pages. Journal of Current Research and Issues in Advertising - Issue 1 Spring | Volume 27.
Mishra, S. (2005). Validation of Conjoint Analysis Results Using A Priori Signs. Journal of Business Research - Volume 58.
Mishra, S. (1996). Factors Affecting New Product Success: Cross Country Comparisons. Journal of Product Innovation and Management - Issue 6 | Volume 13.
Mishra, S. (1995). A Stimulus Sampling Theory Exploration of the Memory Effects of Massed versus Spaced Advertising Schedules. Marketing Letters - Issue 4 | Volume 6.
Mishra, S. (1994). Enhancing Memory of Television Commercials through Message Spacing. Journal of Marketing Research - Issue August | Volume 31.
Mishra, S. (1993). Antecedents of the Attraction Effect: An Information Processing Perspective. Journal of Marketing Research - Issue August | Volume 30.
Mishra, S. (1990). A Monte Carlo Investigation of Conjoint Analysis Index-of-fit: Goodness of Fit, Significance and Power. Psychometrika - Issue March | Volume 55.
Mishra, S. (1990). An Examination of Factors Influencing Attitude-Toward-The Ad under High and Low Involvement Conditions. Current Issues and Research in Advertising - Issue 1 | Volume 12.
Mishra, S. (1983). Diffusion Induced Dislocation Glide. Scripta Metallurgica - Volume 17.